Improve Your Communication Skills
Whether your presentations are before colleagues, the board or the general public, our presentation skills training and speech dynamics workshops will make you a more dynamic, confident and effective presenter. Guaranteed!
We assess your speaking style, including strengths and weaknesses, and work with you individually to develop and improve your own style of public speaking, to empower you with greater speech dynamics, and give you greater confidence and poise.
Presentation Skills Training
Our unique Presentation Skills and Speech Dynamics Training focuses on briefings, speeches, and other live presentations. We focus on coaching, not lecturing, with positive reinforcement. Instruction and practical exercises include message design, speech organization, how to establish speaker credibility and engage your audience with an attention-getting intro, and then maintain a high level of audience interest throughout. You'll learn how to create and then deliver a powerful and memorable close, how to handle even the toughest Q&A and turn negative questions into positive points that reinforce your message. You'll learn methods for story and structure, the power of visualization, and how to design an effective PowerPoint, and then use it as a message reinforcement and not just read the slides – also known as Death by PowerPoint.
You will learn:
the 12 steps to an effective presentation
how to organize and structure your presentation
how to capture and hold the audience's attention
how to use Power Point as a message reinforcement and not as a backwards-facing Teleprompter
how to enhance your presentation with greater speech dynamics and word color
how to effectively handle even the toughest Q&A
how to overcome stage fright and channel nervous habits into positive energy.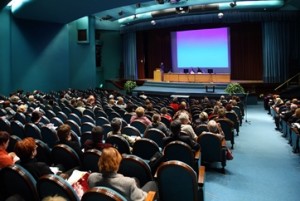 Your Power of Speech Dynamics
Speech Dynamics Training focuses on how to make your presentations more dynamic with proper use of voice & speech. Our speech dynamics training is based on many years of formal training in voice and speech, work as a professional narrator and audio director, and experience presenting to groups of all sizes. Voice training incorporates elements such as posture and breath support, voice projection used by performers, "in the mask" voice placement, and how to avoid and overcome voice strain. Speech training includes speaking rate, pronunciation and articulation, effective use of pauses and inflection, word choice, gestures and animation, and how to "color" your speech and make your words memorable.
Overcome Your Fear of Public Speaking
Whether your presentation is before a small group of co-workers or a large crowd in a public setting, you must be able to overcome the biggest stumbling block to your success – the fear of public speaking. We teach you the techniques to help you overcome this "learned" fear and channel stage fright and other nervous habits into positive energy for more dynamic, effective, and confident presentations.
Methodology
Presentations are video-taped and then critiqued with positive reinforcement. Visual aids, such as Power Points, are assessed with suggestions on how to make them more compelling and effectively reinforce your message with greater imagery and not a long series of bullet points, or worse, a full page of text. A final impromptu presentation demonstrates skills learned in the workshop and instills new-found confidence levels.
Instruction Based on Experience
Michael Drake has given presentations before groups ranging from 20 to 2,500. He has many years of formal training in voice and speech, has worked as a professional broadcaster and voice artist / narrator. He has helped hundreds of individuals improve their presentation skills, overcome stage fright and become more effective and dynamic public speakers.
Programs That Deliver
For group training we prefer six to 10 participants. This limited number facilitates dynamic interaction and allows for multiple on-camera presentations, thus ensuring that each participant receives the full benefits of the training experience. Rather than inflate the price of a workshop to accommodate larger numbers (and diminishing the effectiveness of the training) we are happy to conduct additional workshops at reduced rates to maintain class size integrity.
We welcome follow-up from or clients, many of whom invite us back to help additional staff improve their presentation skills. Our clients also contact us for additional advice and guidance for an important upcoming presentation. We offer free consultation via phone, video link-up, or email for one year following any workshop at no additional charge.
Payments and Scheduling
1 Day group presentation skills training $2990.
2 Days back-to-back $4990. Second day can be the same or a different group. (We like to share the joy.) Same group typically will focus on an upcoming special presentation
Executive One-on-One Presentation Skills Training rates quoted upon request
Additional expenses such as travel, hotel, off-site conference center (if required), etc., may apply but are always billed at pass-through rates.
Discounts also apply for multiple sessions (three or more), long-term contracts and non-profit organizations.
Other training programs can be customized to your specific needs.
A 50 percent deposit is requested to reserve a workshop date with the balance due on the day of the training. Deposits are nonrefundable, however we understand conflicts do arise and will be happy to reschedule with proper notice. Program changes with less than 14 days notice may incur additional expense (travel, other reservations, etc.). Substitution of participants is acceptable at any time prior to the workshop; just let us know who will be coming. We accept corporate checks, VISA, Master Card, and even cash.
Tax Deductions
Most educational expenses and endeavors to improve professional skills are tax deductible to include course fees, travel, accommodations, meals, etc. Please check with your accounting department or tax adviser for specific information and guidelines.
Registration & Confirmation
You may register by phone (888-656-1984) or use the contact form on this website. Please include names of participants, some information about your organization (products or services) and type of training requested.
Upon confirmation we will forward preliminary questionnaires to be completed by each participant that will enable us to assess each person's strengths and weaknesses, experience in giving presentations, and individual goals to better design your workshop.
Materials for Presentation Skills Training Workshops
All exercises and materials including our Presentation Skills and Speech Dynamics Workbook and a DVD (if requested) of participants' speaking presentations are included in the program fees.
Facilities & Equipment
We provide all production equipment to include professional-quality video camera, wireless and hand-held microphones and lighting. We request a conference room or other training center equipped with a large flat screen television and whiteboard, devoid of distraction, and of sufficient space for participants to move about and comfortably deliver their presentations. If you prefer to conduct training off-site, another conference / meeting center can be arranged and billed at pass through rate.
Anywhere – Anytime
We offer presentation skills training throughout the United States and worldwide. Training is done in group or executive one-on-one settings. Just give us a call.
Call for customized training to improve your public speaking skills
Find out how our 30 years of experience in public speaking, work as a broadcast journalist and professional narrator, formal training in voice and speech, and a proven track record helping more than 4,000 individuals in public speaking and media can help you become a more confident, dynamic and effective presenter whether it's a briefing to staff, a presentation to the board, or a public speaking event.
Call 888-656-1984 or use or quick and easy contact form.