How can you teach it if you haven't done it? 
Would you take sailing lessons from someone who has never sailed a boat? Or flying lessons from someone who has never flown a plane? Many individuals (and even some companies) offer presentation skills training, yet they have never made a presentation to a board or commission or even the general public. They have never constructed a communications road map, done a comprehensive audience assessment, engaged an audience with powerful speech dynamics, or handled the tough Q&A afterwards. Michael Drake has – on numerous occasions.
Communication skills training based on experience…
Michael has given presentations to groups ranging from 20 to 2,500. He has developed the presentation structure, done audience analysis, created visual aids including PowerPoint that works as a message reinforcement and not as an onscreen script, and handled the Q&A afterwards, even in tough situations. He has worked in the broadcast media behind the microphone, and in front of the cameras as the media spokesperson. He has also served as "the voice" on countless corporate and government productions.
…in front of the audience, the TV cameras, and in the training center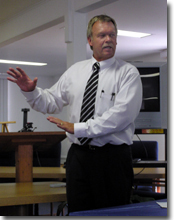 With his experience as a news anchor and reporter, his public speaking skills, and his work as an on-camera spokesman along with formal training in voice and speech, he has developed one of the most comprehensive programs in presentation skills training and speech dynamics in the marketplace today. And he's been teaching these techniques to more than 4,000 persons over the past three decades.
Learn from someone who has done it. Contact us today so we may help you and your staff develop greater communications skills, overcome fear of public speaking, and ultimately become more dynamic, effective, and confident presenters.
Communication skills training with a money-back guarantee
Our presentation skills training comes with a money-back guarantee. If after completing our presentation skills and speech dynamics workshop you do not have noticeable improvement in your delivery skills, increased ability to organize a presentation road map, and greater confidence, we will refund the cost of the workshop (less out-of-pocket expenses such as travel, etc.) with no questions asked. However, know that in more than 20 years of providing this invaluable training to groups and individuals, we've never been asked.
Instruction and Materials
Our presentation skills and speech dynamics workshops include lively instruction, techniques on how to channel stage fright and other nervous habits into positive energy, and practical exercises to help you formulate your communications agenda and deliver a presentation, even an impromptu one, with poise and confidence. In our workshops you will give presentations that are video taped and then played back with follow-on critique that includes positive reinforcement. You will also receive assessment  on use of your visual aids, such as PowerPoints, used in your presentation as well as instruction on how to avoid "Death by PowerPoint."
Workshops include our Presentation Skills and Speech Dynamics Workbook, tips for future improvement, and voice and diction exercises.
We provide professional quality equipment (camera, Sennheiser microphones, lighting fixtures, etc.). We ask that you provide a setting devoid of distraction, large enough to accommodate your group and equipped with a large flat screen television found in most of today's conference rooms.
Call us at 888-656-1984 or use our simple submission form and let us help you and your staff become more dynamic, effective, and confident presenters
After all, you have nothing to lose except for your fear of public speaking, insecurities and poor presentation skills.
Call us today. We can help.